What's new with Rotary

Ukrainian refugee family finds new home in Wilmington
Thanks to local Rotarians, Ivan and Anastasia Slepov, a young couple with infant twin sons, arrived here August 25, 2023. They are living in an apartment rented and furnished by volunteers from the East Wilmington Rotary Club and Wilmington Rotary Club. In addition to contributions from individual Rotarians, both clubs have made financial commitments to help resettle refugees from the Ukraine war. The Slepov family is the third that the Rotary coalition has helped bring to Wilmington. Meanwhile, Ivan Slepov, a qualified marine engineer, is looking for employment.
Club creates scholarships to Cape Fear Community College
On August 21, 2023, our Board of Directors approved two scholarship funds. One will grant a $2,000 academic scholarship to CFCC each year, with preference to students who formerly attended Williston Middle School. Application for the second scholarship, for $1,500, is open to students in the college's film program.
$5,700 to help Maui fire disaster relief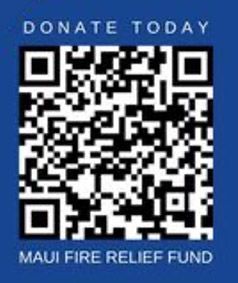 Also on August 21, 2023, the club allocated $5,000 to help in the aftermath of the wildfire that destroyed most of Lahaina on the Hawaiian island of Maui. Individual Rotarians added another $700. The funds have been directed to the Maui Fire Relief Fund, established by Hawaiian Rotary Clubs. These contributions echoe the many generous donations our club received in 2018 from Rotarians around the nation to help Wilmington's recovery from Hurricane Florence. Follow this link to the Maui Fire Relief Fund, or scan the QR code.
Club helps New Hanover's new teachers with expenses

August 15, 2023: Tight budgets and low salaries are a chronic challenge for public school teachers, who often pay for classroom supplies out of their own pockets. Wilmington Rotary Club offered some help to the newest teachers in the New Hanover County Schools, offering every beginning faculty member a $25 gift card to Staples. Members of the club, wearing "Rotarian at Work" T-shirts, distributed the cards at an August 15 meeting. The club spent $2,000, enough to help 80 teachers.
Global Grant to buy equipment for Honduras health clinic
July 2023: The international Rotary Foundation has approved a Global Grant of $30,000 toward this club's project to aid Salud Hondu, a clinic serving the impoverished rural community of Reitoca, Honduras. That sun was matched by $15,000 raised by individual Rotary Clubs in the United States and Honduras, including $6,000 from this club's own non-profit foundation. The grant approval came in July 2023. A leading advocate for the Honduras clinic is Rev. Robert Kus, a former member of this club and retired pastor of Wilmington's St. Mary Catholic Church. "Father Bob" now lives in Honduras.