Leaders in Service
awards for 2024

The awards | Honorees | Sponsorships | Tickets | Our projects | Nominations
An awards program and fundraiser
Sponsorships and tickets to our second annual award banquet on May 1, 2024 will benefit our club's local non-profit arm, the RCDW Foundation. At the banquet, we will honor three local leaders who have changed our community for the better.
---
About the awards
The Leaders in Service Awards will recognize top executives of enterprises in three categories -- business, non-profit and government -- who have helped their organizations contribute to improving our community and the world. We are asking for nominations from the public.
Criteria for these awards are that nominees 1) have held a leadership position in their organization, or its local branch; 2) have made a significant impact on the community's needs in one or more of the Rotary Areas of Focus; 3) have led a life and managed their organization in harmony with the Rotary Four-Way Test; and 4) have demonstrated strong leadership skills including a commitment to diversity, equity, and inclusion, personnel development and collaboration with other community leaders.
Elected officials are not eligible.
---
Our 2023 honorees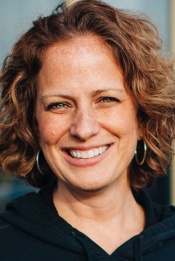 From left: honorees Capt. Terry Bragg, Dr. Thomas Dalton, and Amy Wright.
The second year's honorees, who were recognized on May 4, 2023, are Capt. Terry Bragg, director of the Battleship North Carolina, in the government category; Dr. Thomas Dalton of Eden Village, in the non-profit category; and Amy Wright, founder of Bitty & Beau's Coffee Shops, in the private-sector category.
---
About the fundraiser
Sponsors make tax-deductible contributions to the Wilmington Rotary Club's RCDW Foundation, a 501(c)(3) charitable institution. That foundation makes grants to support charitable projects in the Wilmington area, as well as contributing to global projects through our International Projects Committee. In return for their support for our foundation, sponsors get recognition, both at the awards banquet and in public media advertising, and tickets to the banquet.
Details of the May 1, 2024 awards banquet are yet to be finalized, but we plan to present the awards during an event that includes a reception, dinner, excellent wines, background music, and other entertainment. Guests will receive a colorful commemorative program and we will show video interviews with each of the award recipients. Speakers will introduce the honorees, each of whom will give a short acceptance speech.
Sponsorship levels are:
Platinum: $10,000 (two tables + brand exposure and other event marketing)
Gold: $5,000 (one table + brand exposure and event marketing)
Silver: $2,500 (one table + brand exposure and event marketing)
Friends of Rotary: $1,000 (four seats)
Individual tickets: $150
To become a Leaders in Service sponsor, please complete the form below.
---
Where the money goes
Funds raised through the 2024 Leaders in Service awards will be allocated during the 2024-25 Rotary year, which begins July 1. To give an idea of how we use our financial resources, what follows is a partial list of projects and grant recipients the RCDW Foundation has supported in recent years.
Long-term support for education and literacy in New Hanover County schools that serve high-poverty student bodies.
Our club's long-term "Legacy Project" at Williston Middle School, supporting such needs as science, math and reading competitions; fitness programs for students; a clothing closet to help low-income students meet school uniform and "dress for success" goals; a school store; and other needed supplies and equipment.
Nutrition assistance and a dental clinic for the families of low-income public school students.
Cash awards each year for five outstanding rookie public-school teachers.
Research to combat Alzheimer's disease.
Training assistance dogs for people with disabilities
Construction of a Habitat for Humanity house.
International health, water supply, and economic development projects in Sierra Leone, Honduras, Guyana, Moldova and Ukraine.
For more on causes Wilmington Rotary Club supports, see Our Projects page.
---
Suggest honorees: Leaders in Service nomination form

The Leaders in Service awards begin with nominations from the public. Please use the form below to propose honorees for our next awards presentation. Here are answers to some common questions about the process.
Whom should I nominate?
Nominate an exemplary leader in the private, public, or nonprofit sector who exemplifies the Rotary Four-Way Test. The nominee will have demonstrated success in one of Rotary's seven Areas of Focus.
Why should I make a nomination?
This is your opportunity to recognize an outstanding leader — a colleague, a mentor, or someone you admire — and share his or her success story with the Wilmington community.
How will the honorees be chosen?
A committee of distinguished community leaders in and out of Rotary will screen the nominations and select the finalist in each award sector.
What do you want to see in the nomination?
Please provide factual descriptions of how the nominee had made a difference in any of the Rotary seven Areas of Focus. Keep the nomination clear and concise.
Can I provide back-up documentation?
Yes, but please no boilerplate resumes or press releases. You can include information about education, professional experience, and other awards.
When is the deadline?
Nominations will be accepted until December 19, 2023.
Become a sponsor for 2024

---
Buy individual tickets for 2024

---
Our 2023 sponsors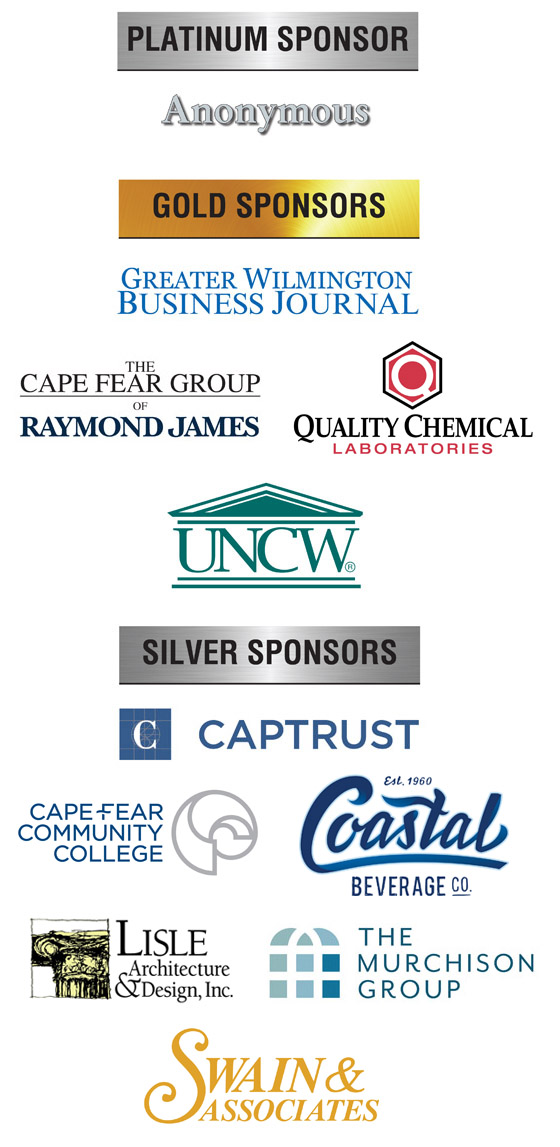 2023 Friends of Rotary
Anonymous
Bob King Buick
Boney Decor Solutions LLC
David Brown
Butler & Butler, LLP — Algernon L. Butler, III
Calvary Memorial Cemetery
Capital Nissan
Century 21 Vanguard — Jeff Leslie
Albert and Paula Corbett
The Cotton Exchange
Terri Everett
First National Bank
Gates Psychological Services
Gwathmey Residential Group
Highland Roofing Company
Bob and Tiffany Kitchen
Paul and Patricia Lawler
Maus, Warwick, Matthews & Co.
Dick and Barbara McGraw
John and Peggy Meehl
Reid Murchison
National Coatings & Supplies
Novant Health
Pawn USA
Erin and Joe Payne
RBC — Sean Frelke Team
RB and Lynn Richey
Sawmill Catering Company
Donna and Brian Shiro
SouthState Bank
Decision Point Wealth Consulting at UBS
Bert and Melanie Williams
City of Wilmington
Wilmington Machinery — Russ Labelle
Margaret Zahn