Service Above Self since 1915
Southeastern North Carolina's oldest, largest and finest civic organization
What's new

Our 2024-25 fundraiser coming soon

The 2023 version of this event netted more than $70,000 for our club's projects and grants.

Learn more: go to Leaders in Service page
Ukrainian refugee family finds new home in Wilmington
Thanks to local Rotarians, Ivan and Anastasia Slepov, a young couple with infant twin sons, arrived here August 25. They are living in an apartment rented and furnished by volunteers from the East Wilmington Rotary Club and Wilmington Rotary Club. In addition to contributions from individual Rotarians, both clubs have made financial commitments to help resettle refugees from the Ukraine war. The Slepov family is the third that the Rotary coalition has helped bring to Wilmington. Meanwhile, Ivan Slepov, a qualified marine engineer, is looking for employment.
Club creates scholarships to Cape Fear Community College
On August 21, 2023, our Board of Directors approved two scholarship funds. One will grant a $2,000 academic scholarship to CFCC each year, with preference to students who formerly attended Williston Middle School. Application for the second scholarship, for $1,500, is open to students in the college's film program.
$5,700 to help Maui fire disaster relief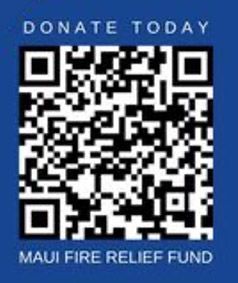 Also on August 21, the club allocated $5,000 to help in the aftermath of the wildfire that destroyed most of Lahaina on the Hawaiian island of Maui. Individual Rotarians added another $700. The funds have been directed to the Maui Fire Relief Fund, established by Hawaiian Rotary Clubs. These contributions echoe the many generous donations our club received in 2018 from Rotarians around the nation to help Wilmington's recovery from Hurricane Florence. Follow this link to the Maui Fire Relief Fund, or scan the QR code.
Club helps New Hanover's new teachers with expenses

Tight budgets and low salaries are a chronic challenge for public school teachers, who often pay for classroom supplies out of their own pockets. Wilmington Rotary Club offered some help to the newest teachers in the New Hanover County Schools, offering every beginning faculty member a $25 gift card to Staples. Members of the club, wearing "Rotarian at Work" T-shirts, distributed the cards at an August 15 meeting. The club spent $2,000, enough to help 80 teachers.
The latest club newsletter
Keep up with what our big, busy club does with our bi-monthly "Club News." It contains updates on club meetings, members, and our wide range of service projects. The print edition is distributed at club meetings; the digital edition is available here. See the lower left corner of this page for links to recent back issues. For the latest,
go to current edition
For Rotarians

Members of the club (and their guests) are invited to a college football-themed "barn party" on October 7. Cost is $25 per person and includes food, beverages, and games. To reserve tickets, follow this link. To log in, members should use the email address where they receive Rotary information; the password is their Rotary member number. Alternatively, members can request a personalized email to bypass the login process and register directly.
Our club's background
The club was founded in 1915. For details, go to Club History page.

Rotary's non-profit foundations

Projects
For details on how we spend our money and volunteer hours, go to Our Projects page.
What we believe
Our club has endorsed Rotary International's diversity, equity and inclusion statements. For details, go to our Diversity, Equity and Inclusion page and to Rotary International's DEI page.
Membership: a choice for fellowship and service
The Wilmington Rotary Club is looking for accomplished business and professional people, of all ages and backgrounds, to become part of our community of service.
For details about how to become a member, go to the Membership page.
Rotary's seven areas of focus
The club's service priorities are based on part on Rotary International's seven areas of focus. (The seventh, the environment, is new in 2021.) The areas of focus are:
Peace and conflict prevention/resolution.

Disease prevention and treatment.

Water and sanitation.

Maternal and child health.

Basic education and literacy.

Economic and community development.

The environment.