First Guyana water project complete; village now has safe drinking water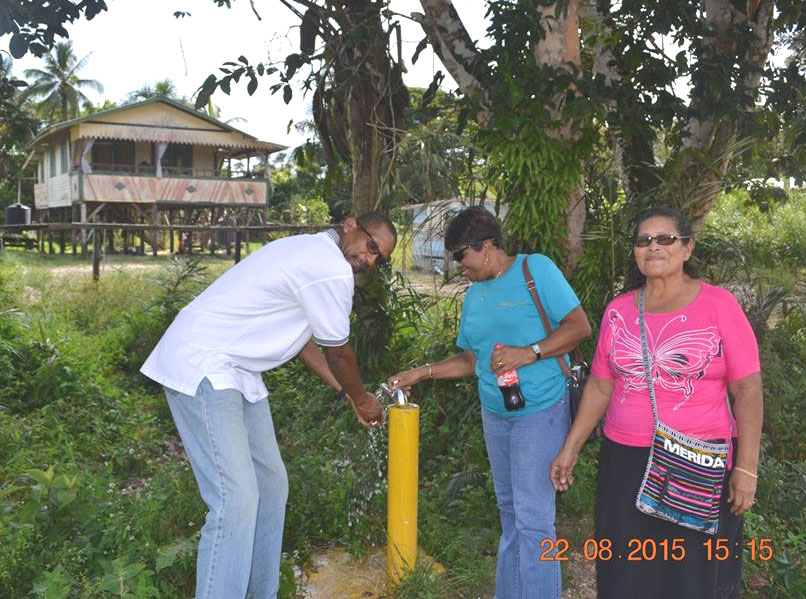 Coomacka residents tap clean water from one of the village system's standpipes.

The well pump is solar powered, minimizing operating costs.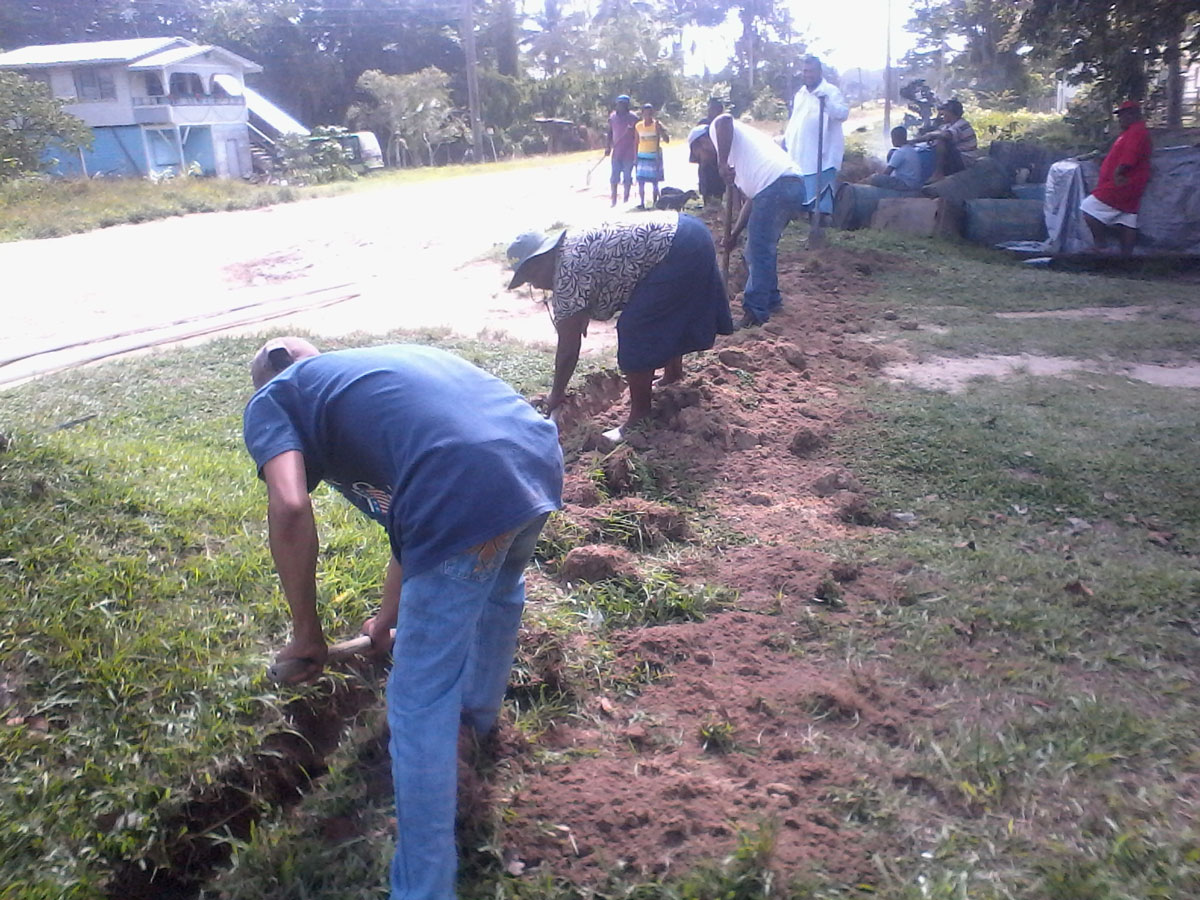 Coomacka residents invested 'sweat equity' digging trenches to lay distribution pipes to supply additional standpipes, convenient to every house in the village.
Delegation from Wilmington visited Coomacka to help with water project and other initiatives. Rotarians Mike Beaudoin, Mark Alper and AnnaMaria Lookman, and Mike's wife, Gayle Beaudoin.
The Wilmington Rotary Club group traveled to Guyana July 16 to 24, 2014 to work on and review progress of our water system project, funded with a Rotary Foundation Global Grant. That, together with funds from our club, other Rotary clubs, and Rotary District 7730, totalled $48,000.
The Global Grant was the first to be approved by our District. Its purpose was to provide clean, safe drinking water to Coomacka village, which is a two-hour drive inland from Georgetown, Guyana's the capital.
The Wilmington visitors helped apply fluoride treatments to more than 120 children's teeth, provided sessions on hygiene and dental care, and distributed hundreds of tooth brushes & tooth paste. They also conducted a business seminar and helped build one of three bus shelters the club funded. St. Mary Catholic parish of Wilmington provided another $440 for the bus-shelter project.


The Coomacka village well was drilled in late July 2014.
Our project employed local companies and ensured that all materials were bought in Guyana. Our local partner was the Rotary Club of Georgetown.
We also received funds from the Wilmington East, Coastal Pender and Cape Fear Rotary clubs. The solar-powered well delivers water to a 2,000 gallon above-ground tank. This provides pressure for the distribution lines, supplying 40 standpipes convenient to all of Coomacka's nearly 180 homes.
The village's 1,000 residents badly needed a safe water supply. During the two rainy seasons each year, rivers and creeks flood causing the latrines to spill into the rivers, contaminating what had been their only drinking water source.
Around the world, over 2,000 children die every day because they lack access to clean drinking water. Our project has addressed this problem in Coomacka. A follow-up project is in the works in 2017, to install a similar system in the nearby village of Old England.