Service Above Self since 1915
Southeastern North Carolina's oldest, largest and finest civic organization
Background: The Wilmington Rotary Club was founded in 1915, the 150th club in the Rotary movement. It is the parent (or grandparent) to numerous other Rotary clubs in eastern North Carolina. The Wilmington club is one of six in Wilmington, and is part of Rotary District 7730. The club celebrated its centennial in 2015. For details, go to
Club History
page.

Meetings: The club meets for lunch starting at 12:30 p.m. on Tuesdays at Cape Fear Country Club, 1518 Country Club Road in central Wilmington. For information about programs and other club events, go to Club Calendar page.

UPDATE APRIL 2020: Because of the ongoing coronavirus crisis, the club's weekly face-to-face meetings were suspended during March and April, 2020. Beginning on April 28, the club will conduct "virtual" meetings online, using Zoom meeting software. Members will receive emailed instructions for how to set up a free Zoom account, which can be used on a personal computer, tablet or smartphone. A weekly emailed invitation will include a password to connect to each club meeting.

Projects: Current activities include the Legacy Project, a partnership with Wilmington's Williston Middle School; assistance for adult literacy tutoring through the Cape Fear Literacy Council; child literacy through the Williston Middle School and six of New Hanover County's public schools; a water supply system for the villages of Coomacka, and Old England, Guyana, in partnership with the Georgetown, Guyana Rotary Club and several other Wilmington-area clubs; assistance to the Rotary Cottage at the N.C. Boys and Girls Homes at Lake Waccamaw; support for the Rotary Wheel Garden at Wilmington's Greenfield Park; and funding for KIVA Microfunds, which makes small loans to entrepreneurs in developing countries. For details, go to Our Projects page.

Rotary's six areas of focus
The club's service priorities are based on part on Rotary International's six areas of focus. They are:
Peace and conflict prevention/resolution.
Disease prevention and treatment.
Water and sanitation.
Maternal and child health.
Basic education and literacy.
Economic and community development.
Wheel of Honor: our major fund-raising project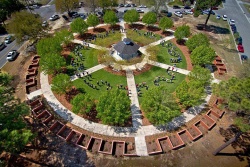 When the public health situation permits, hopefully later in 2020, we still intend to fill the Rotary Wheel Garden at Greenfield Park with a sea of more than 500 American flags, each tagged with the name of the person its sponsor chooses to honor. Major corporate and Rotarian sponsorships offer an opportunity for businesses and individuals to help support the club's many local and global projects, through our tax-exempt 501(c)(3) foundation.To learn more, click below to
UPDATE APRIL 21, 2020: Because of concern about the health consequences to Rotarians of installing the flag display, the Wheel of Honor has been postponed to a time to be determined, possibly late summer and early fall 2020. Please see Wheel of Honor page for details.
Membership: a choice for fellowship and service
The Wilmington Rotary Club is looking for accomplished business and professional people, of all ages and backgrounds, to become part of our community of service.
We are a service organization, but we are also a social group. For many of our members, the Wilmington Rotary Club is a large extended family. Rotarians represent a wide range of professions, and our members include many of Southeastern North Carolina's most influential leaders. That makes the club useful as a source of professional contacts.
The chief qualifications for becoming a Rotarian are recommendations from club members, a history of involvement with community, volunteer or service organizations, and adherence to Rotary's ethical standards. (See
The Four-Way Test.
) Joining Rotary doesn't involve any elaborate initiation process. We have no secret handshakes or high-signs, no hazing rituals or ceremonial regalia, as can be seen in the following historical video. We will, however, as in this 1931 "Betty Boop" cartoon, ask you the essential question for any prospective Rotarian: "
Wanna be a member?
"
Wanna be a member?
This cartoon is from the Fleischer Brothers studio, which brought us not only Betty Boop, but Popeye the Sailor, Felix the Cat, and other iconic characters. We offer it in the spirit of our club's informal watchword: "Is it fun?"
For a serious look at how to become a member, go to the Membership page.
December 2019 Fellowship Day assignments
The club's December 3, 2019 "Vocational Fellowship Day" meeting will take place at a variety of sites. Members have been assigned to one of these based on their requests. Click on the link above to see your assignment. NOTE: meetings began at noon, NOT the usual 12:30 p.m., and include a box lunch.