Wilmington's Rotary Wheel garden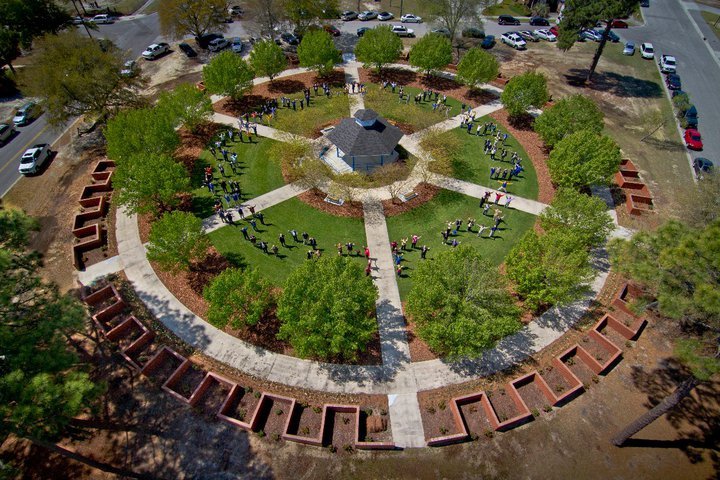 The Rotary Wheel garden has been a fixture in Greenfield Park since 1965.
It's 240 feet across and is the world's largest Rotary symbol. It was built in Greenfield Park, in Wilmington, NC, in honor of this club's 50th anniversary. The project had its origins in 1924 when the Rotary Club adopted the cause of developing Greenfield Lake as a public park.
On July 27, 1945, Houston Moore persuaded the club to adopt improvement of Greenfield Park as a project for that year. In the fall of 1961, Dr. Heber Johnson proposed that Rotary build an amphitheater on the lake's western shore. The club committed $6,000.00 and volunteer labor. Dr. Johnson obtained discarded seating from The Lost Colony outdoor drama in Manteo, and brought the seats to Wilmington. Rotarians scraped, sanded, painted, and installed the seats in the Wilmington amphitheater.
In 1965, as the club was celebrating its half-century mark, it decided to create the world's largest Rotary emblem. Brick walls form the gear wheel's outline; concrete walkways form the six spokes.

Construction was completed with the assistance of C.M. Haithman and his masonry students at Williston High School. (Williston was converted to a junior high -- now middle school -- in 1968. It's the school our club supports through our Legacy project.)
The garden was originally planted with shrubbery donated by Rotary clubs from around the United States. They were later replaced with roses, and eventually azaleas, which grow better in our climate.
In 1990, the Wilmington Rotary Club's 75th anniversary, a Gazebo was built in the wheel's hub.
A number of improvements have been made in the years since, notably installation of a lighting system in the spring of 2020, intended to coincide with the club's Wheel of Honor project. (That event was suspended due to the COVID-19 pandemic.)
Click on thumbnail images above to see larger photos of the Rotary Wheel Garden, 2020.
To learn more, visit: Facebook.com/RotaryWheel